Koolbardi wer Wardong
This production is presented in association with the AWESOME Festival, West Australian Young Voices and Western Australian Youth Orchestra
Award winning songwriters Gina Williams and Guy Ghouse invite you on a magical journey back to the Nyittiny, the time of Creation.
This season is subject to COVID-19 restrictions. To book as part of an opera package (2 or more operas) click here
ABOUT THE SHOW
Aliwa yeyi! (Look out now!) Feathers will fly in this cautionary tale.
Koolbardi the Magpie and Wardong the Crow are two very proud, vain, jealous brothers. Watch as their cunning, rivalry and one-upmanship brings them unstuck in spectacular fashion.
Set on Noongar Boodja (the south west corner of Western Australia), we invite you to join us for a journey back to the Nyittiny, the time of Creation, where love, loyalty, betrayal and jealousy are all stretched to their limits. Because pride always comes before the fall.
Award winning songwriters and story tellers, Gina Williams and Guy Ghouse weave magic in a world first, brought to life under the deft direction of Matt Reuben James Ward. Experience the incredible beauty of the language of this land, as this production promises to delight audiences of all ages.
SUNG IN NOONGAR WITH ENGLISH SURTITLES
KOOLBARDI WER WARDONG is a Wesfarmers Arts Commission.
Trailer
Behind the Scenes
CAST

Composers Gina Williams and Guy Ghouse
Conductor Aaron Wyatt
Director Matt Reuben James Ward
Bendat Family Foundation Artist Movement Director Olman Walley 
Set and Costume Designer Matt McVeigh
Lighting Designer Mark Howett
Arrangement and Orchestration Dr Chris Stone
Repetiteur Adrian Soares

Koolbardi Jarrad Inman
Wardong Jarred Wall
Djidi Djidi Tyrone Brownley
Miss Djidi Djidi Natasha Eldridge
Ngaank Boodja Gina Williams AM

Guitar Guy Ghouse
Double Bass Dr Nick Abbey
Percussion Dr Daniel Susnjar

West Australian Young Voices
Noongar Children's Choir
Western Australian Youth Orchestra
VIEW THE PROGRAM
WESFARMERS ARTS SYNOPSIS SHEET
HOW CAN I VIEW THE PROGRAM ON THE NIGHT?
You can view the program on the night via your smartphone. There will be QR codes available at His Majesty's Theatre. When you scan the QR code with your smartphone camera, the program will load. 
Relaxed Performance of Koolbardi wer Wardong
Supported by Lotterywest
3pm performance | Tuesday 5 October 2021
His Majesty's Theatre Perth
What is a relaxed performance?
A relaxed performance is aimed at creating a welcoming environment designed for but not limited to audiences with autism, sensory and communication needs and learning disabilities. At a relaxed performance, audiences are allowed to move around and make noise within reason when watching the performance. Conventional theatre rules are relaxed, and audiences are given permission to make themselves comfortable during the performance. Lighting and sound levels will be augmented to make the theatre experience more pleasant for audiences with sensory sensitivities. Front of House staff will also be trained to ensure they are equipped to facilitate a welcoming environment for audiences.
What can I expect?
Theatre doors will remain open throughout the performance
Lighting will be dimmed
Sound will be moderated
Pacing areas will be situated at the back of the auditorium in both the Stalls and Dress Circle
A Quiet Area with bean bags and art materials will be available for audiences who may want to leave the auditorium to relax. The performance will be streamed live in the Quiet Area so they do not miss out on the performance.
Audiences may exhibit comfort behaviours such as fidgeting, stimming, pacing, rocking or make noises during the performance
Audience members are free to enter and exit the venue throughout the performance
Read our Frequently Asked Questions
Social Story
A social story is a tool that helps individuals better understand the world around them so they can plan for a positive experience, even if they are going into a place that is unknown to them. Social stories help individuals know what to expect and what to do in unfamiliar situations by walking them through the experience.
Enjoy our social story for Koolbardi wer Wardong:
CREW & KING 
Crew & King Café | Restaurant | Bar is open at the iconic His Majesty's Theatre and serving the best produce Western Australia has to offer.
Enjoy the special Koolbardi wer Wardong menu! 
BOOKINGS
Book via The Fork or call (08) 9265 0937
BROOKFIELD PLACE
We're teaming up with our partners at Brookfield Place to offer all Koolbardi wer Wardong ticket holders exclusive food and beverage offers on performance nights. All you need to do is present your ticket! 
Participating venues include: Bar Lafayette, W. Churchill, Heritage, Bobeche, Print Hall (The Apple Daily Bar & Eating House). 
His Majesty's Theatre is shortly to undergo balcony restoration. We thank you for your patience and care during preparatory work on the footpaths outside the theatre. 
Under current State Government COVID-19 restrictions, the venue is able to operate at 100% capacity.
We will endeavour to present this event however, we will be operating as per COVID-19 restrictions and conditions may change rapidly.
For more information please contact Box Office on (08) 6212 9292
His Majesty's Theatre and West Australian Opera have COVID-19 Safety Policies in place to maintain your safety at the theatre. These efforts include:
The completion of a COVID safety plan.
Hand sanitiser stations readily available.
Ongoing frequent deep cleaning regimes across all areas of the venue.
COVID safety trained staff in all areas.
Distanced markers for queuing.
Use of the WA Government's SafeWA digital contact register system. For more information please click HERE. 
A digital programme for Koolbardi wer Wardong will be available to view for free on the WAO website in advance, so if you'd like to read it before the performance, you'll be able to do so.
We are taking every measure possible to ensure audience safety, so printed programmes will not be available at the performances. 
Please do not attend a live performance if you are unwell. As an interim COVID-19 measure if you are unwell, please contact [email protected] prior to the performance to discuss your options with us. 
Event and ticketing details
Accessibility
Dates & Times
DURATION

60min with no interval

2 October, 2021

Saturday

- 6.30pm

5 October, 2021

Tuesday

- 3.00pm, 6.30pm

6 October, 2021

Wednesday

- 3.00pm, 6.30pm
You might also be interested in...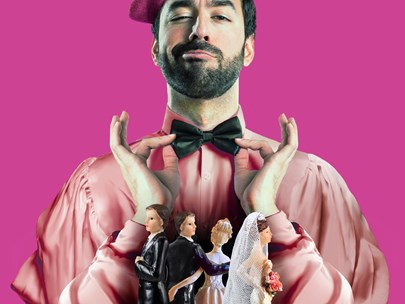 On Sale
A charming story of servants and masters changing places, pageboys playing at soldiers, ruined flowerbeds and nighttime trysts.
More info