West Australian Opera shares the magic of Opera with Kalamunda Senior High School Italian Studies Students
By Daniele Foti-Cuzzola 
After months of COVID19 restrictions, our Education Team were excited to return to school last week with a celebration of music and language. Lead by Education Manager, Terasa Letizia the small group comprising of our Wesfarmers Arts Young Artists, Baritone Lachlann Lawton, Soprano Chelsea Burns and Accompanist Adrian Soares, made the journey up the hills to Kalamunda Senior High School to run an Italian-themed incursion for the school's Italian students. 
"It was so exciting for us to be able to present our first incursion of the year. The thrill made more by the high level of interest and engagement from the students," says West Australian Opera's Education Manager, Terasa Letizia. 
The incursion gave students an opportunity to learn about the Italian origins of opera and to hear some beloved arias from some of the most celebrated Italian operas including Don Giovanni, Le Nozze di Figaro (The Marriage of Figaro) and Gianni Schicchi. 
For many of the students, this was their first time experiencing an opera. They were mesmerised by Lachlann's rendition of Là ci darem la mano from Don Giovanni and moved by Chelsea's performance of O Mio Babbino Caro and after the performance students eagerly asked our three Wesfarmers Arts Young Artists questions about opera, their careers and quizzed them on their Italian language skills. 
"The things that I enjoyed the most was listening to the opera, it was really captivating. I actually have never been to one. Another thing would be learning about its history and what the songs were about," says Kalamunda Senior High School student, Savannah. "I believed opera to be something that was boring and you had to love it already to see it, but it's much more than that. It has a story and real emotion to it that even people first hearing it don't find it boring." 
"I thought that opera was boring and just for old people. But I learnt that opera has a story and is dramatic and has emotion," recounts Kalamunda Senior High School student, Jake. "I learnt that opera is not something that you have to have learnt from a young age and that some opera singers didn't know what they were going to do in life until they were 18. This is inspiring because I haven't decided what I want to do yet. I also learnt that opera takes a lot of skill and there are no microphones so they must project to the whole audience completely by themselves." 
And for the few the students that had experienced an opera before, the incursion served as an opportunity to deepen their appreciation and understanding of opera. "I have always enjoyed opera, seeing the pieces that got played on Thursday my love of opera has grown," says Kalamunda Senior High School Student, Talia. "There is a lot of things that go behind the stages that a lot of people could get into. Learning about this allowed me to have a greater appreciation of opera, The hard work that goes into it is really inspiring."
"It is so important as Language teachers that we expose our students to learning opportunities that are authentic, meaningful and engaging," says Maria Pennington, Italian Teacher, Kalamunda Senior High School. "West Australian Opera has inspired my students to appreciate the arts, Italian history, culture and language. I want my students to be open-minded and excited about this musical art form. Learning about how opera evolved, particularly within the Perth community helps students recognise how Perth has become rich in cultural diversity and is accessible for people of all ages." 
If you are interested in arranging an incursion for your school or community group, please contact our Education Manager Terasa Letizia at [email protected]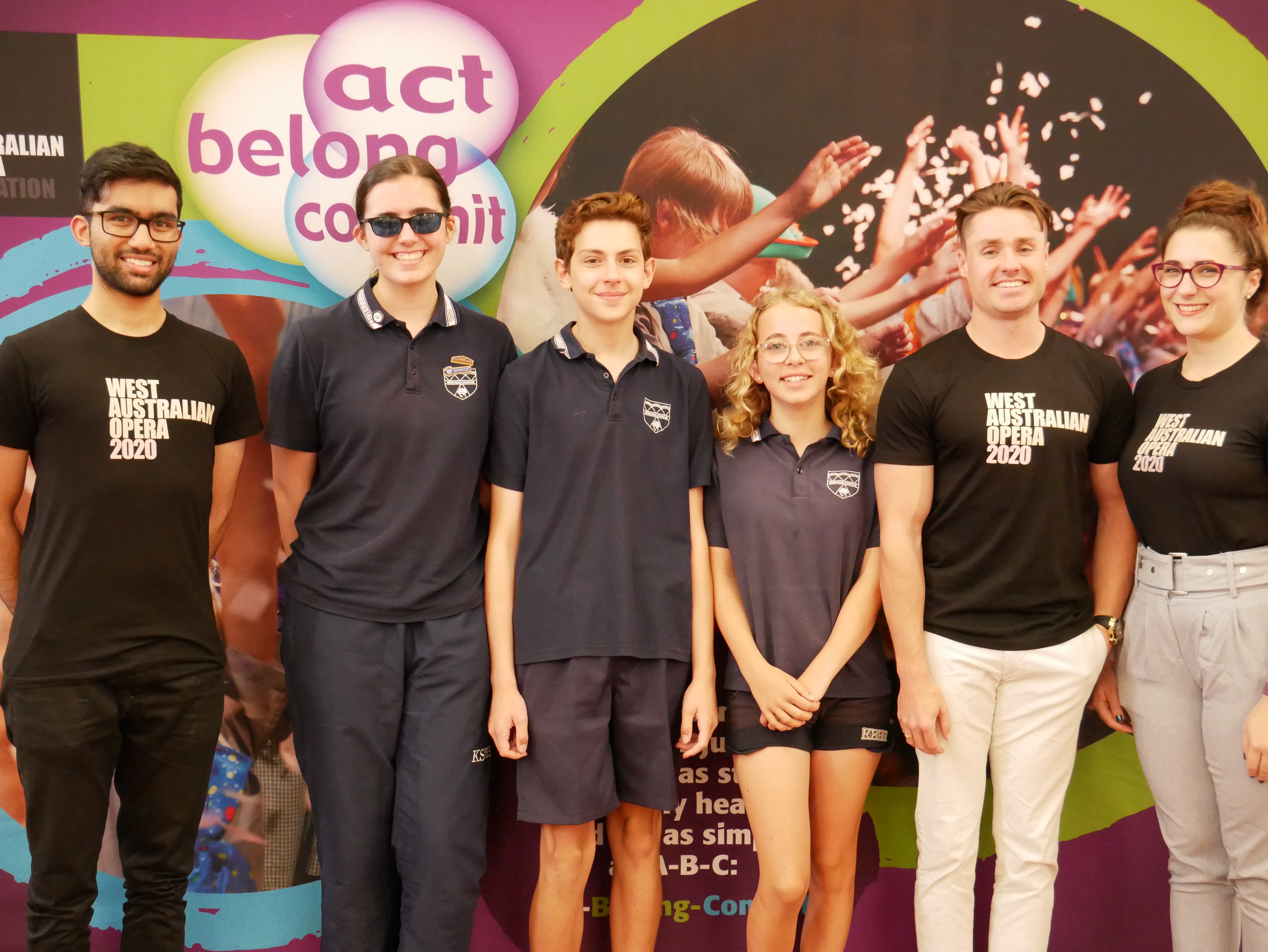 From left to right Wesfarmers Arts Young Artist Adrian Soares, Kalamunda Senior High School students Talia, Jake and Savannah with Wesfarmers Arts Young Artists Lachlann Lawton and Chelsea Burns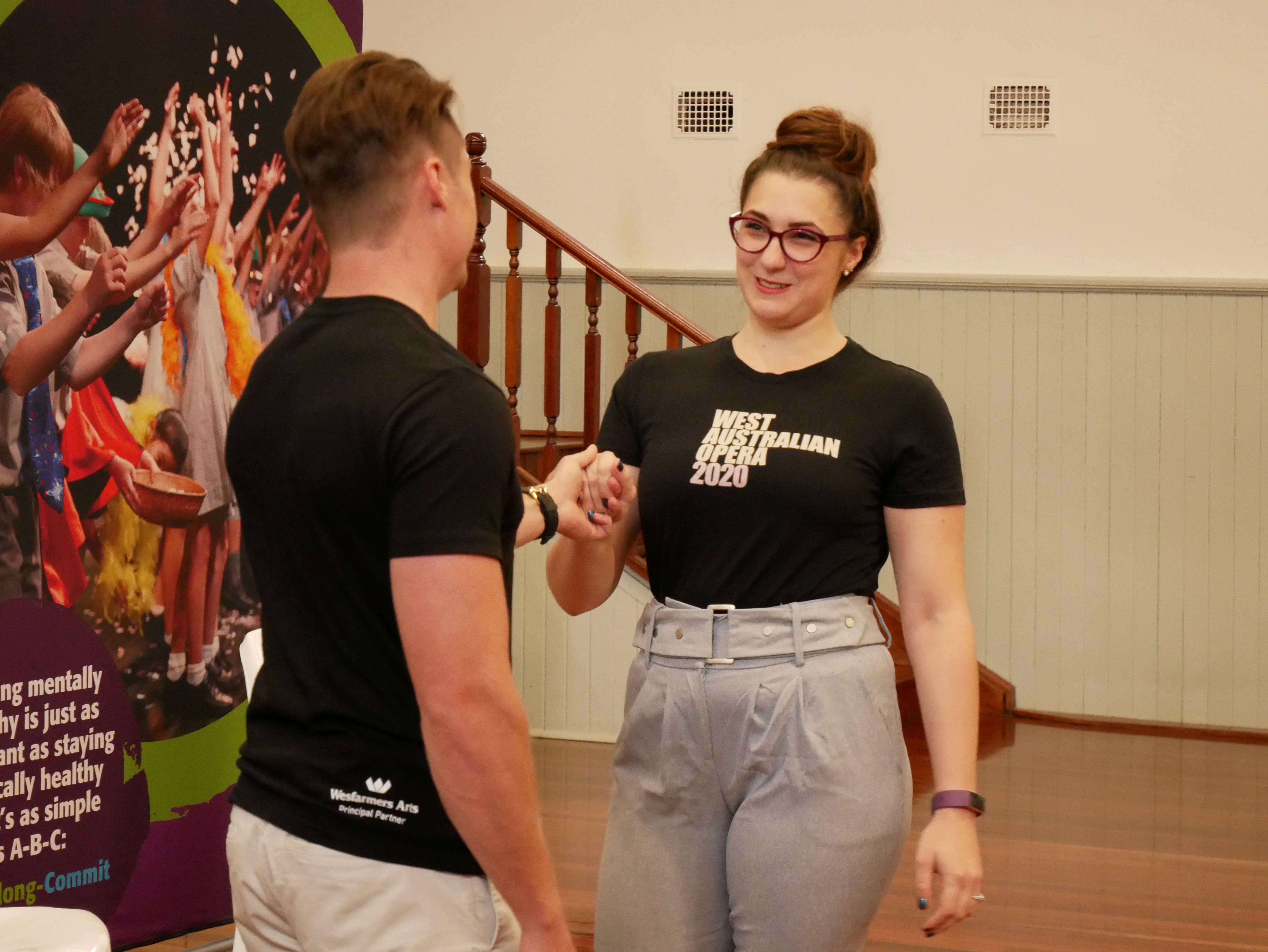 Lachlann Lawton and Chelsea Burns performing Là ci darem la mano from Don Giovanni