Staging Verdi's Masterpiece Otello
Busy in rehearsals for West Australian Opera's season of Verdi's Otello, Artistic Director and conductor Chris van Tuinen discusses why the opera is one of the composer's greatest works.
Why do you think Otello is considered one of Verdi's greatest masterpieces?
Verdi was hugely prolific and after Aida, he takes time off and he retires. He feels like he's achieved everything he needed to do in the world of opera and composition. He then waits almost 20 years and gets lured out of retirement by his publisher to write this piece.
Meanwhile, the musical landscape of Europe has changed a lot during that time. And so not only is he creating an opera based on a work by one of his favourite writers, Shakespeare, and back in the art form that he loves, he is taking a huge personal risk to his reputation. He could be deemed to be past it and he's responding to what's going on. Wagner was been around for ages, Puccini is on the scene, Richard Strauss is on the scene. There's a lot of stuff going on.
Verdi uses this score to reassert his mastery over the form and he does it in a way that also responds to the fashionable musical things that are going on in Europe at the time.
It highlights the level of compositional imagination and flexibility of a composer at the stage of his career when he could be expected to be in a rut; it's just remarkable. And the fact that the works that happen now on Otello, the requiem, and Falstaff are all crammed with innovation. It's fantastic.
How would you describe its scale?
Enormous without feeling overdone. It's big where it's big, but only where it needs to be.
So, for example, the woodwind and brass are the full complement. Two trumpets, two cornets, three trombones, four French horns, a tuba, four bassoons, three of each of the other woodwinds, a decent size string section, percussion, six off-stage trumpets, and a pipe organ that plays only in the storm scene. For us, we've got 40 in the chorus, there are about ten principals, and there's a handful of actors.
And yet, when Verdi wants to write Desdemona's Willow Song and the Ave Maria at the beginning of Act Four, he drops everything out except for a single cor anglais and some strings. So, yes, it's enormous in the storm scene and enormous when it needs to be, and yet he's got such good sense of control that we keep the intimacy.
What should we listen out for?
I think one of the things that Verdi does particularly well, which I think you can hear in the score when you're watching a performance, is that almost all of the characters on the stage have a public persona and a private persona. The way he writes those moments for each of those characters, I think you can hear clearly in the score.
For example, at the beginning of Act Two, Iago sings his credo, and it's music that exists for that character in no other part of the opera. He doesn't fall into the trap of thinking that's cool music for Iago and start using it in other places. He says this is a private moment and a time when we see a window into Iago's soul, I'm going to write music just for that scene, and for the rest of us, I'm going to show you just how duplicitous he is.
How would you describe this production?
Harry Kupfer does what great opera directors do and artfully addresses the logistical requirements of the work. There's a handful of logistical things that you need to solve when you're staging something like Otello.
For example, how do you get 40 choristers and a dozen principals onto a stage, into a position on the stage where they can look natural in their action, but they can also sing towards an audience and watch a conductor and be heard.
Harry has worked with set and costume designers to create a set that allows all of those things to happen. He then takes those technical solutions, and it's a bit which comes first, and then he makes great art out of it.
His solution is to have a set that's raked in the form of a big staircase and at the beginning of the opera, when the chorus comes in for the storm scene, there are about ten different ways to get onto this set. You can come out at the front, come in the sides, and come up through it, he has all the chorus spill in from the top. In the middle of the storm scene, he has them come across the top of the set like a wave and find their positions just before they sing, and then move on from there.
It's a really masterful understanding of both the dramatic needs of a piece and the kind of considerations for great art in a theatre.
When is it set?
It's set in a sort of generic 1930s European city. We're supposed to believe because of the play that it's Cyprus, but it could be anywhere, and I think that's what he's doing here.
The costumes for the men are vaguely militaristic, but there's no insignia on them. They're not representative of anything other than a general time and place.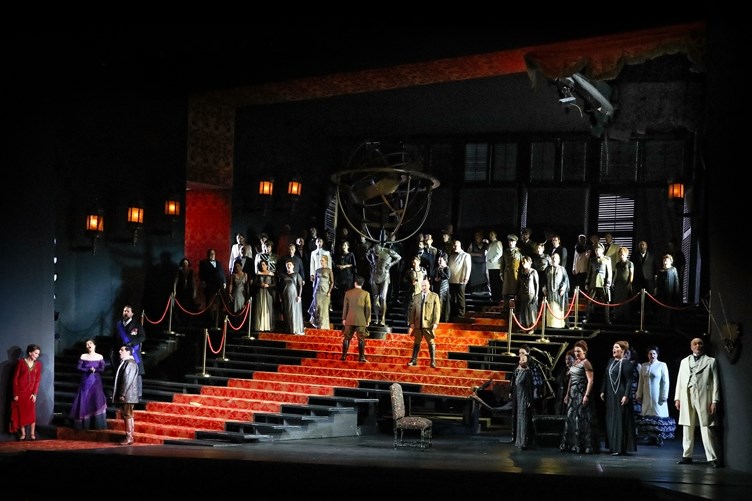 How does Kupfer's production elevate the drama?
He reverse-engineers what Verdi does.
Verdi started with the libretto and thought about the scene in his mind and then he composed music that explained or commented on what he thought the scene was about. 
A director and a conductor to a large part have to take that material and then try and reverse-engineer that to get into the mind of the composer and librettist, and then find a way to make that enhanced or enlivened or explained or excited or thrilling in the context of the production.
The one example that always comes to mind is at the end of Ave Maria, Desdemona is down the front of the stage and she's just singing one of the loneliest moments in opera. Then there's a very famous double bass solo which goes for a page or so. In Harry's production, Otello is at the very top of the set and we see him in silhouette. He then spends the whole double bass solo stalking her down the staircase. She doesn't know he's there. Then as he gets to the bottom of the stairs, from behind her, he reaches his hands out to her as if to strangle her. At that moment, Verdi re-introduces the love theme music from Act One.
And in Harry's production, Otello touches and kisses the top of her head. Then we get into the final scene of Act Four, which is because Verdi has quoted the love theme from Act One, that final scene from Act Four becomes like a mini-opera.
We see Otello and Desdemona's relationship in a microcosm. We see the love theme music from the beginning. Otello then says to her, have you done your prayers for tonight? And she says: Yes. Why? Because you're going to die.
What can audiences expect to feel?
This opera powerfully moves you, as all the great operas do. For me, it's in that top group of operas where there's not a moment that's wasted.
The play itself is quite long and we only really see in the opera less than half of the actual text content that's in the original Shakespeare; lots of subplots are missing.
Verdi uses that to drive the action forward. There's never a moment for me where the passion cools. Everything that happens you think: Oh, that's going to make it worse, or what is Otello going to think of that? Or how does that happen? It just roller-coasts along. Even in the moments where it gets quite still and intimate, it feels like that pregnant pause before a storm.
West Australian Opera presents Otello from 20 - 29 July at His Majesty's Theatre. BOOK HERE.