WAO Ghost Spotlight with Katie How
Now is a time for looking ahead: to our exciting mainstage return next month, and to the new generations of opera lovers we must support and nurture. From our youngest singers to those who guide them, we want to shine a spotlight on our creatives working in the Ghost Light to bring the magic of opera to you. Connect with your state opera company on an intimate level and learn how outstanding leadership, encouragement and love can carry this art form into the future.
Join us this week with Children's Chorus Master Katie How as she discusses rehearsing with The Nightingale's youngest stars, the benefits of learning through collaboration, and her first sparks of passion for opera.   
1. Tell us about your role as Children's Chorus Master for The Nightingale alongside Perry Joyce – what does the rehearsal process involve? What are you most looking forward to?
My role as one of the Children's Chorus Masters has been to learn and prepare the score and teach the music to the children. The score is complex and has a unique harmonic language that has made it a challenge to learn, both for myself and for the choristers. We have been rehearsing twice a week since the start of term 3, usually as a full chorus, but occasionally in voice parts or smaller ensembles. I am really looking forward to seeing the children in the final performance. They have worked incredibly hard learning the music and developing their voices and they are so excited to experience the atmosphere of a fully staged opera.
2. What challenges and opportunities did the pandemic period present for you? How did you keep the singing alive at WAYV?
Technology was instrumental in keeping the singing alive at WAYV during terms 1 and 2 of this year. Our rehearsals very swiftly moved from face to face to online. We were able to film rehearsal videos each week, we recorded podcast-style interviews on various topics and hosted weekly Zoom meetings to catch-up with the choristers. Thank goodness for the internet! The main challenge for the choristers during this period of online learning was motivation but having an opportunity like The Nightingale to look forward to has been a huge help in giving the choristers a goal and direction.
3. To what extent do you think collaboration can support artistic development?
At WAYV, I have the opportunity to work and collaborate with my co-director Perry Joyce. Working in partnership with him has been amazing not only for the choir, but also for my development as a musician and conductor. We learn from watching each other work and we support one another in the development of our skills. It is through this experience that I now more deeply understand the importance of collaboration. WAYV have the opportunity to collaborate with four other arts organisations on The Nightingale. This will allow these young singers to learn from the experience and expertise of industry professionals and work with other young musicians and performers.
4. How important do you think it is to engage young people in opera, both as artists and audiences?

Opera is such a beautiful art form and unique in the way it combines musical and visual elements to tell a story. It is important to spark interest and passion for opera from a young age, as they will become the next generation of opera lovers, both in the audience and on the stage. I still remember my first opera experiences as a child through school excursions in primary and high school and these helped foster within me a love and deep appreciation for opera.
5. Can you share with us a musical moment in your life that you found illuminating or inspiring?

I have been surrounded by music for my whole life; mum was my singing and music teacher in primary school and dad sang tenor in the West Australian Opera chorus many years ago. The first fully staged opera I attended was Mozart's Don Giovanni. I still remember the feeling when the overture began and the sound of a live orchestra vibrated through me. It was in this moment that I realised the power music has to move us. I have been so privileged to conduct the young people of WAYV and they continue to remind me at every performance of just how moving music can be.
6. Do you have any advice you would like to give to young people interested in performing?
My advice to young people wanting to perform would be to seize every opportunity you can find and make your own opportunities if necessary. The more performance experience you have the more confident and accomplished you will become.
7. What fairy-tale would you like to see interpreted on stage one day?
One of my favourite fairy-tales as both a child and an adult is "The Selfish Giant" by Oscar Wilde. The story contains a lesson relevant to young and old about the importance of selflessness and how the truest state of happiness occurs when you make others happy. I feel the story could be cleverly captured on stage with puppetry and animation and it encompasses a wide spectrum of emotional states that would be beautifully realised with music.
The Nightingale features West Australian Young Voices with direction from Children's Chorus Masters Katie How and Perry Joyce. Find out more about this enchanting new production here. 
Image by David Penco
ABOUT KATIE HOW
Katie How has been a conductor at West Australian Young Voices for the past five years. As well as working as a conductor, Katie performs regularly with the St. George's Cathedral Choir and The Giovanni Consort. She has performed as a soloist with Perth Lyric Opera, Art Song Perth, Collegium Symphonic Chorus and St George's Cathedral. As well as performing and conducting, Katie is a singing teacher, seeing around 50 students a week. Katie graduated from the University of Western Australia with a Bachelor of Music Performance, majoring in Classical Voice. In 2017 she attended the Gondwana National Summer School Conducting program, in 2018 she completed the final level of training for the Australian Kodaly Certificate and in 2020 she is completing a Master of Teaching in secondary music education.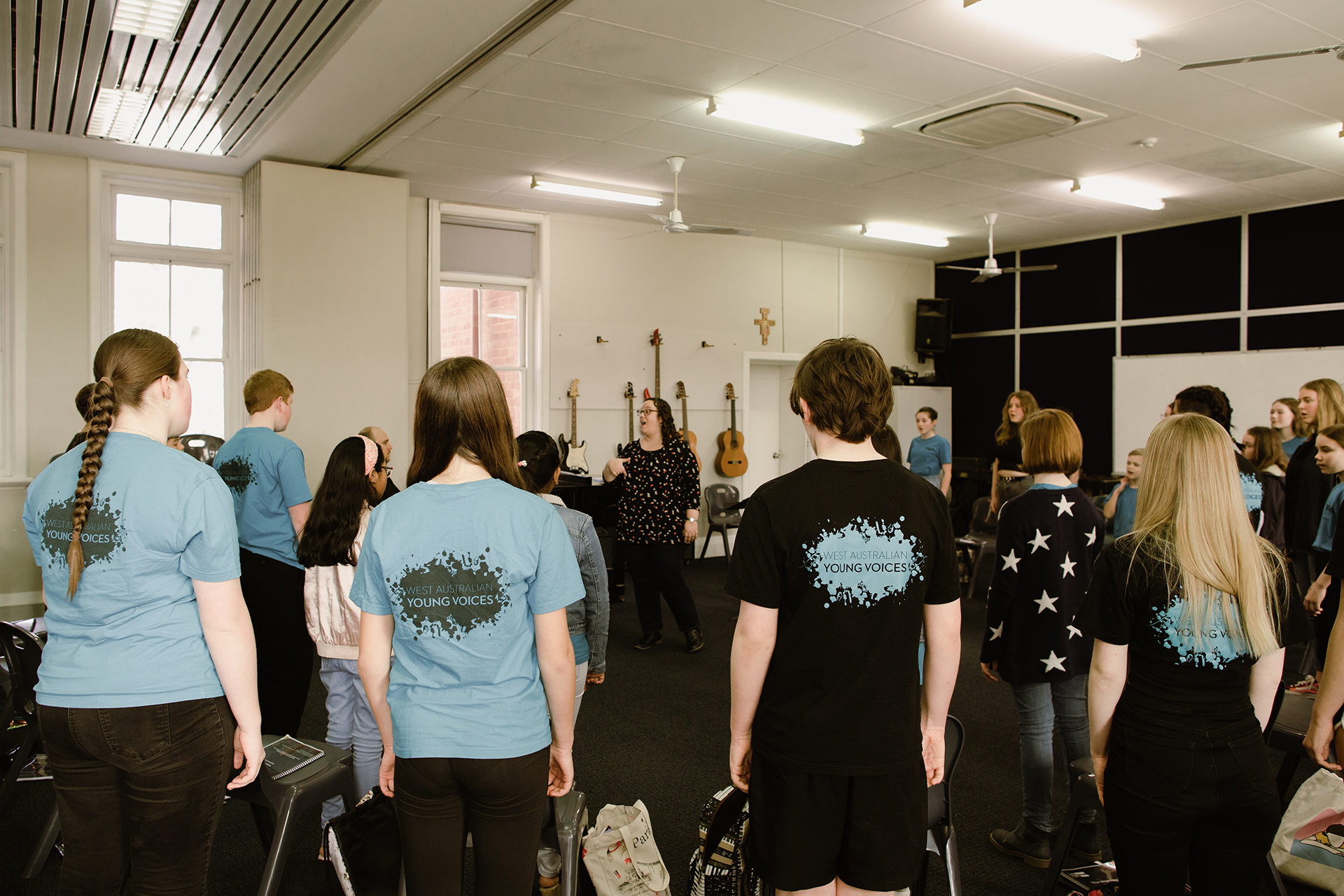 Katie How in rehearsal with West Australian Young Voices for The Nightingale. Photo by Flossy Photography.
FIND OUT MORE
In an exciting first for WA companies, coming together to blend opera, music and movement, hear from members of West Australian Young Voices as they prepare for the world premiere production of The Nightingale.
Watch now - https://www.youtube.com/watch?v=88I0ie0tZ34