WAO Spotlight with Matthew McVeigh
Commissioned during a pandemic and over one year in the making, our new Wesfarmers Arts commission Koolbardi wer Wardong is swiftly taking shape ahead of its world premiere this October. From initial sketches to the striking movement of fabrics on stage, we want to shine a spotlight on the creatives working tirelessly to bring the magic of opera to you. Connect with your state opera company on an intimate level and get an early glimpse of what this groundbreaking work will look, feel and sound like on stage.
This week, Set and Costume Designer Matthew McVeigh talks to us about drawing inspiration from Australian artists, the nuances of Noongar language, and how he creates a unique sense of space and style.
1. Tell us about your role as Set and Costume Designer for Koolbardi wer Wardong – what are your responsibilities?
I'm there to help create a sense of location and space. I am also there to aid the direction around the staging of scenes. In terms of costume, it's about presenting character and also creating the essence of the boorna (animals) worn on the human frame. Making choices about which elements to accentuate and which to stylise are my responsibilities as Designer.
2. Where have you drawn inspiration from?
From the Australian landscape. I have looked at paintings by artists like Sidney Nolan and Fred Williams and a variety of WA artists like Robert Juniper and Jo Darvall.
3. Do you have a favourite set piece or costume? What are you most excited for audiences to see?
I like the mirrored floor because it has so much potential to be lit. I am also liking the cockatoo head pieces the Milliner (Susan Rigg) is doing.
4. When did you first venture into design?
In 2006 doing the Design course at WAAPA.
5. How does your visual art practice inform your work for the stage?
I am always about composition in space and painterly textures more than architecture. I prefer designing sets that have exterior settings than interior. I always refer to myself as an artist that does scenography for that reason, not the other way round.
6. What is unique about Koolbardi compared to other projects you have worked on?
I have a massive opening with the proscenium (the arch separating the stage from the auditorium) and a lot of depth to design in. Most of my shows have been small touring sets. The size is unique for me.
7. What messages, questions or sensations do you hope audiences are left with after the curtain falls? 
I've watched a few plays in Noongar now and as an English speaker you have to concentrate a lot harder to pick up the nuances between words. I just want the audience to sit in that space and reflect of having to think and listen differently in another language. I think this is a genuine process of decolonisation.
Witness the exquisite culmination of Matthew McVeigh's work on Koolbardi wer Wardong – book tickets now!
Images by Alison Rodrigues.
ABOUT MATTHEW MCVEIGH
Matthew McVeigh is an interdisciplinary artist that graduated from the Western Australian Academy of Performing Arts in 2008, majoring in Design for Live Performance. 

Matt's practice is best described as process and collaboratively driven, working across theatre, public art and community art. He has worked in the areas of dance, physical theatre, musicals, opera and puppetry. Matt has designed for Black Swan State Theatre, Yirra Yaakin, Steam Works, Spare Parts Puppet Theatre, WA Ballet, Performing Lines and Barking Gecko. He has been Assistant Designer for the Australian Ballet and Victorian Opera as well as designing for many other independent companies.  In the community sector he has worked in correctional facilities, with youth at risk, disability services and remote Aboriginal and regional communities. 

Matthew continues to work on the Wu Rut Woorat in a studio on a heritage site on the banks of the Derbarl Yerrigan on Whadjuk Nyoongar country.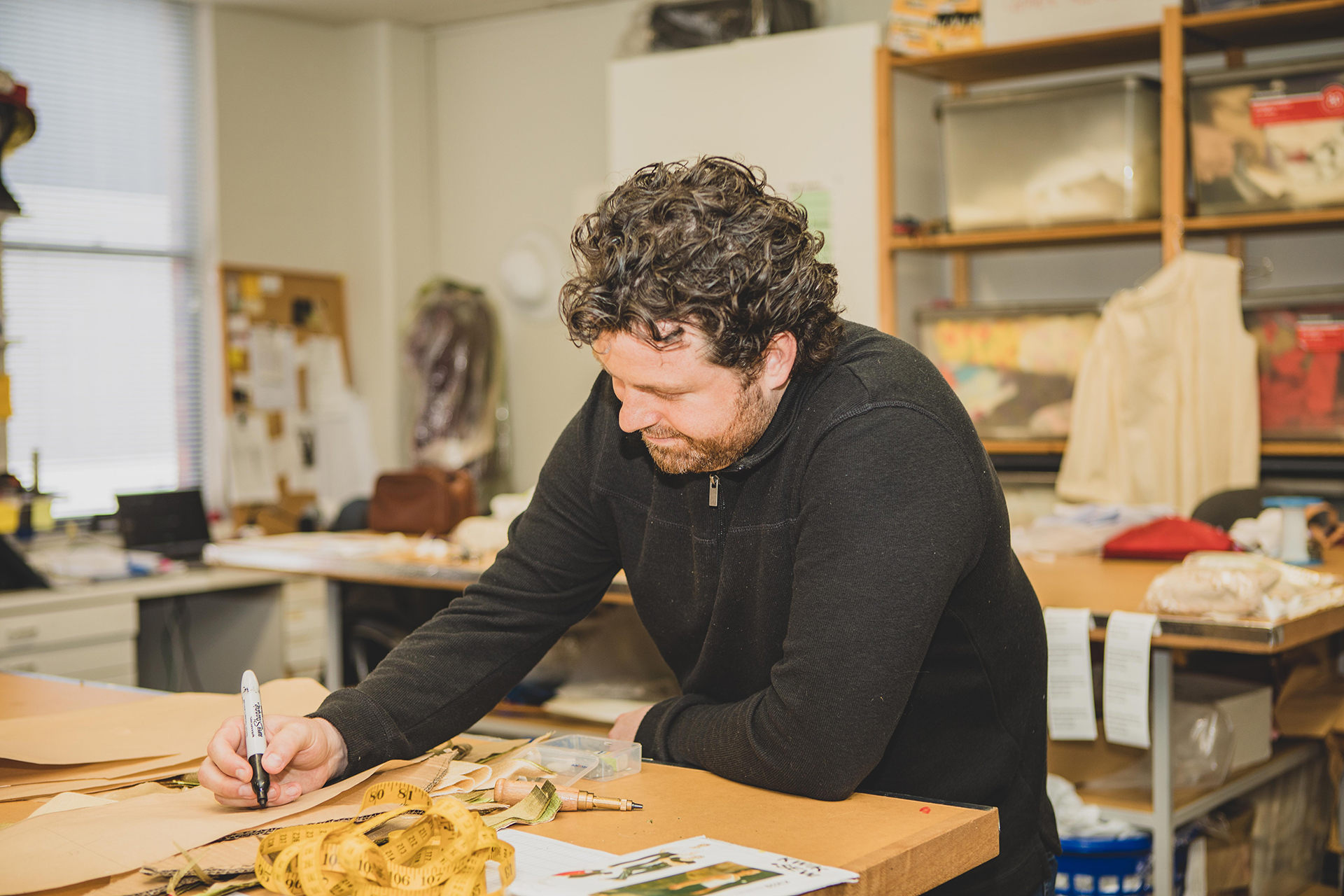 Matthew working on costumes for Koolbardi wer Wardong in the West Australian Opera Wardrobe Department.