WAO Spotlight with Penny Shaw
The stage of His Majesty's Theatre has been transformed into sun-soaked 18th Century Naples, and now is the time to relish the exhilaration of bringing sung stories to life. From conceptualisation to closing night, we want to shine a spotlight on our creatives working tirelessly to bring the magic of opera to you. Connect with your state opera company on an intimate level and appreciate the vigour, wit and initiative harnessed by our stars as they step into character.
Journey behind the scenes with soprano Penny Shaw as she contemplates her subversive character Despina in Così fan tutte, the transportive nature of a luxurious set, and how volunteering at an opera festival unexpectedly changed her life.  
1. Now that Così fan tutte is in full swing, can you reflect on what you have found most challenging and most rewarding about the rehearsal process?
The rehearsal process is one of the things I love the most about performing opera. In contrast to preparing for concert work it is such a delight to unearth a character, motivations, relationships etc. under the guidance of a director and in collaboration with the rest of the creative team. Così has been an absolute pleasure so far – we are all immensely grateful to be working at all under the circumstances and I think that makes for a very harmonious atmosphere! Additionally we have all known each other for a long time, having worked for WAO in various guises over the years, which means we are all comfortable – there is quite a lot of giggling.
I can't pretend it wasn't a challenge to learn the opera in such a short space of time. It is very unusual to have to memorise a role so fast, but I also secretly loved it! My favourite place to be is sitting at my piano learning music and I love the Italian language.
I think the fact that Bruno Ravella (Revival Director) is in London and only seen on Zoom can be a little frustrating, but probably much worse for him than it is for us.
2. Talk to us about your character Despina – how have you prepared for the role? What interests you about her personality and choices?
Despina is a really excellent character to play and there is so much to say! As Dorabella and Fiordiligi's maid she is the only working-class character in the opera but isn't entirely happy with her lot in life. She is outspoken and hot-tempered, quick-witted and impatient; Don Alfonso sees her as a potential threat to his plan and so decides to enlist her help. She believes that the girls are taking themselves too seriously and that they should have some fun and so agrees to help him with his plan.
When we first see her, she is complaining about the unfulfilling nature of housework and how unfair it is that she, as the maid, must waste her time on it without getting any of the benefits. This is something I can very much relate to, having brought up four children and not really being a fan of the chores myself.
She has a very feminist outlook on life, one which probably would have been quite shocking at the time. If Alfonso's motto is that all women are the same (Così fan tutte!) then Despina's would be that all men are the same so, as women, you may as well take your chances when they present themselves.
Despina can be portrayed as malicious and manipulative, but I believe that she has the best interests of the girls at heart. She knows that they have precious little opportunity to have fun before they are married and disapproves of the double standards which apply to men and women. Although she thinks that the girls are a bit silly (they are very young and naive) she is also very fond of them, and it is not really a happy ending for her either – despite getting her money she feels betrayed by Don Alfonso and ashamed of her part in his game.
3. How do aspects of the set, costumes and props ground you in the story?
There is nothing like lacing up your corset to make you feel like you're in a proper opera and this one is as beautiful and traditional as they come. Going on stage for the first time is stunning. You feel you have been transported to a luxurious Italian villa with blonde wood-panelled walls and a sun-drenched patio, complete with lemon trees, marbled floors and even a pond! I have a number of costume changes as Despina dresses up both as a Doctor and a Lawyer at various points in the story. My favourite prop is my doctor's bag with all my medical paraphernalia in it. It reminds me of one that I used to covet in the local toyshop window when I was about 6 years old. I think my parents were hoping I'd be a doctor, but little did I know that I just wanted to dress up as one and sing!
4. What messages, questions or sensations do you hope audiences are left with after the curtain falls?
Despite some of its questionable morals this opera is essentially a charming comedy, with a beautiful setting and some of the most exquisite music ever written. The opera ends, however, with so many questions – the story unresolved and slightly uncomfortable. So I hope that the audience leaves uplifted, with a sense of having been transported to another time and place, but also wondering what will happen next and if the relationships will recover after the day they've had. Personally, I hope that the girls get rid of those boys and find less problematic partners who will treat them with more respect.  As for Despina, I hope she takes Don Alfonso's money and starts her own theatre company!
5. Why do you think storytelling through performance – be it opera, dance, or theatre – is powerful?
Immersing yourself in a performance is magical, partly because you are sharing it with those around you. A collective experience of live theatre is so delightful. I think this became clear during lockdown when we only consumed stories on our own and via the screen.
6. When was the moment you knew you wanted to pursue opera?
This is an easy one. I'm currently making a podcast of my teenage diaries (check out Diary of a (teenage) Diva on Apple Podcasts, Spotify etc. if you're interested!) and I found out that I decided to become a singer aged 13 years and 3 months! I studied singing at school, but I was more interested in musical theatre than opera until I was cast in a university production of Mozart's opera Don Giovanni. I played Zerlina, the peasant girl, and somewhere in the Act 1 finale where Zerlina (like Despina) gets to sing right in the middle of the harmony with voices above and below, each expressing their own thoughts and feelings, I was just blown away. I felt that I could sing this music for the rest of my life and not get bored of it. And I was right!
This decision to pursue opera was compounded later that year when I volunteered at a local opera festival. My job was to greet the audience and hand out programs. Once the opera started I would 'rescue' a glass of champagne from the VIP area, hop into a little wooden rowing boat on the ornamental lake and listen to the beautiful singing floating across the water in the twilight. Is it any wonder that I fell in love with opera? Incidentally that little festival was the first year of Garsington Opera. 30 years later it has now moved from its village setting, is much grander, and I note that Bruno (Ravella) will be directing an opera there in 2021. Opera is a very small world!
7. What other exciting projects do you have on the horizon?
Like many artists I have always had to create my own opportunities. It is almost impossible to sustain a full-time career as an opera singer unless you are prepared (and able!) to travel both interstate and internationally. Living in Perth has always made this a challenge and until recently I was tied up with raising my 4 children. I've had a couple of glorious years with a huge amount of travel, working as a guest artist on luxury cruises with Divalicious (comedy duo with fellow WAO soprano Fiona Cooper Smyth) but 2021 is looking very home-based! 
Having said that, I have a few exciting little bits and pieces coming up – some Christmas concerts, a Fringe World season in 2021 and some other projects in the pipeline. Other than that, it is 'wait and see'. I couldn't have foreseen this amazing opportunity which only came to me because of COVID-19, so I think that if 2020 has taught us anything it is that what you think you see on the horizon could end up being something completely different.
Don't miss the opportunity to see Penny Shaw as Despina in Così fan tutte – a limited number of tickets are still available for Thursday 29 and Saturday 31 October. Book now to avoid disappointment!
Image by James Rogers.
ABOUT PENNY SHAW
A graduate of Oxford University, Penny worked throughout the UK and Europe in her 20s singing many leading roles including Violetta in La Traviata, Donna Anna in Don Giovanni, Rosina in The Barber of Seville, First Lady in The Magic Flute, Contessa in Le Nozze di Figaro, Musetta in La Bohème, Frasquita in Carmen and Carlotta in The Phantom of the Opera for companies including English Touring Opera, Opera Holland Park and Travelling Opera. 
Since moving to WA from London in 1999 Penny has appeared as a soloist for Perth Festival, Perth Symphony Orchestra, Downstairs at the Maj, Perth Concert Hall, Mandurah Performing Arts Centre, Broome's Opera Under the Stars and Shinju Matsuri Festival, Vienna Pops New Year's Eve Concerts, Fremantle Chamber Orchestra, and numerous other events.  As one half of comic opera duo Divalicious, Penny has performed everywhere from national television to The Sydney Opera House, Fringe Festivals to luxury cruises. 
2020 marks Penny's 19th year singing for West Australian Opera.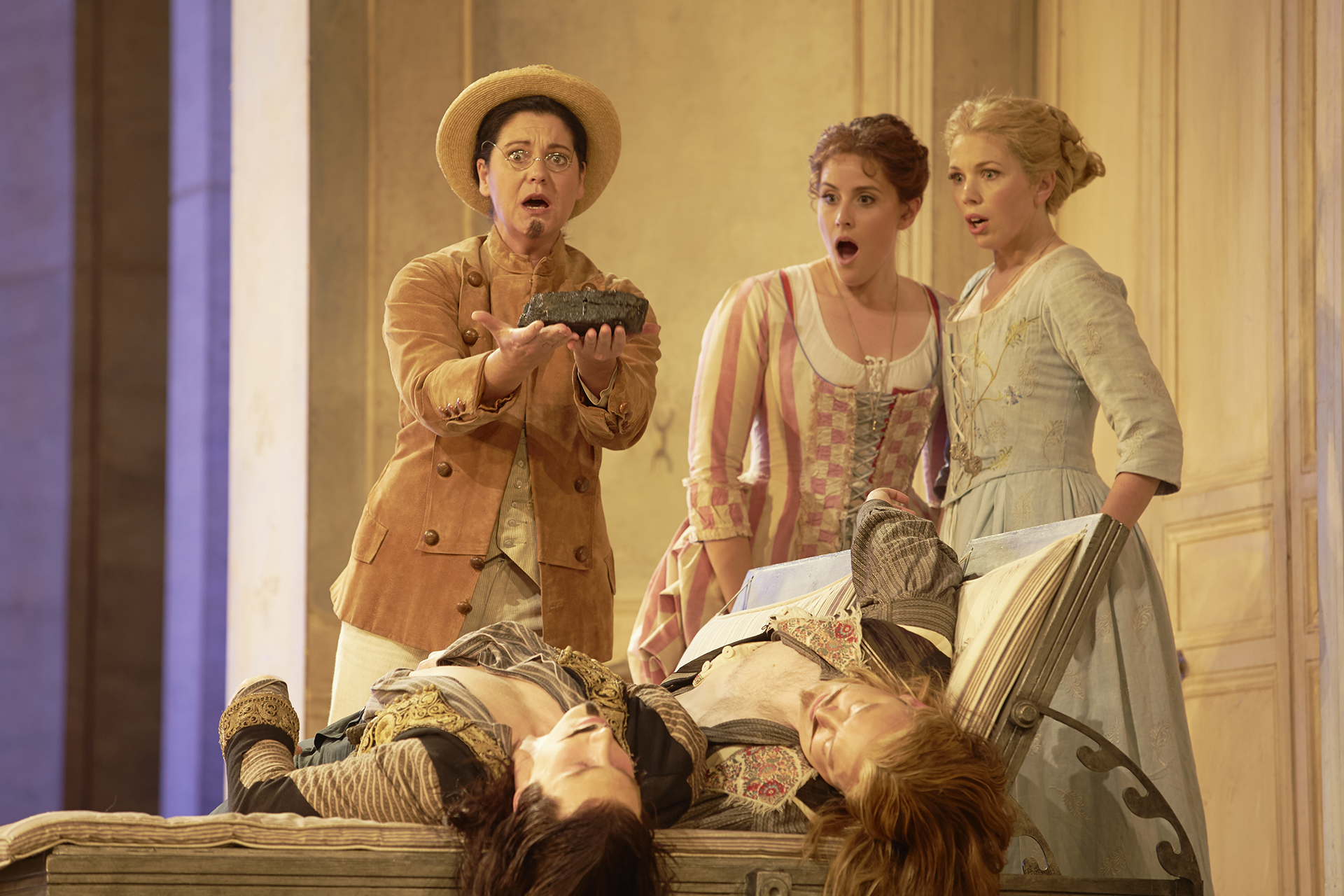 Penny Shaw as Despina (disguised as a doctor), Ashlyn Tymms as Dorabella, and Prudence Sanders as Fiordiligi. Image by James Rogers.