Designing Tchaikovsky's Iolanta
Set and Costume Designer Tyler Hill shares his notes on approaching Tchaikovsky's Iolanta.
The deceptive tension between paradise and purgatory fuelled our designed sensory and accessible world of Iolanta, featuring symmetrical coarse curved stairs surrounded by ever shifting shadows and textures of the natural world.
There are multiple layers of historical contexts intertwined within the opera, which further activate our urge to distort and manipulate the design with darkness, colour, and form. The contexts range from the 1400s historical event Iolanta is based on, the late 1800s creation of the music and libretto, the early 1900s architecture of His Majesty's Theatre and the 2022 contemporary adaptation.
The characters who retell Iolanta's story are costumed to evoke memories, shapes and shadows of the medieval past linked to the original historical event fulfilling our impulse to reimagine and re-address Iolanta's past experience of deception.
At the core of Iolanta is its delicate, yet soaring music, which our design amplifies with tactile and visually suggestive effect.
As part of expanding this production's accessibility for blind and vision impaired audiences, Tyler shares image descriptions for each character and their costume's design.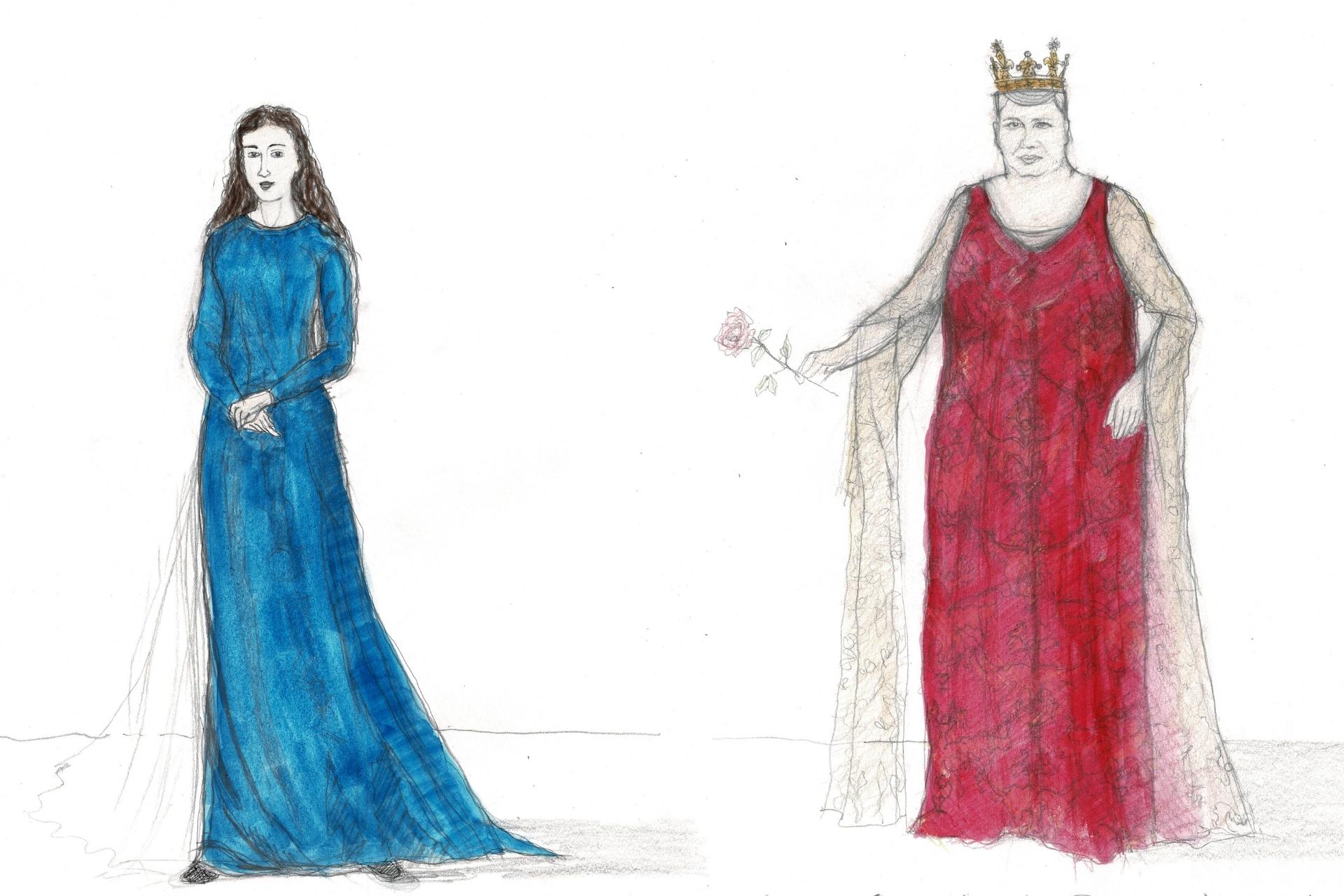 Iolanta wears a saturated ultramarine blue linen straight line dress with her hair flowing and out.
Queen Iolanta wears a decorated regal straight line dress made of deep red raw silk finished with gold brocade stitching and rope details. Her crown is made of aluminum with a gold finish, jewels and has a Fleur-de-lis pattern around the circumference.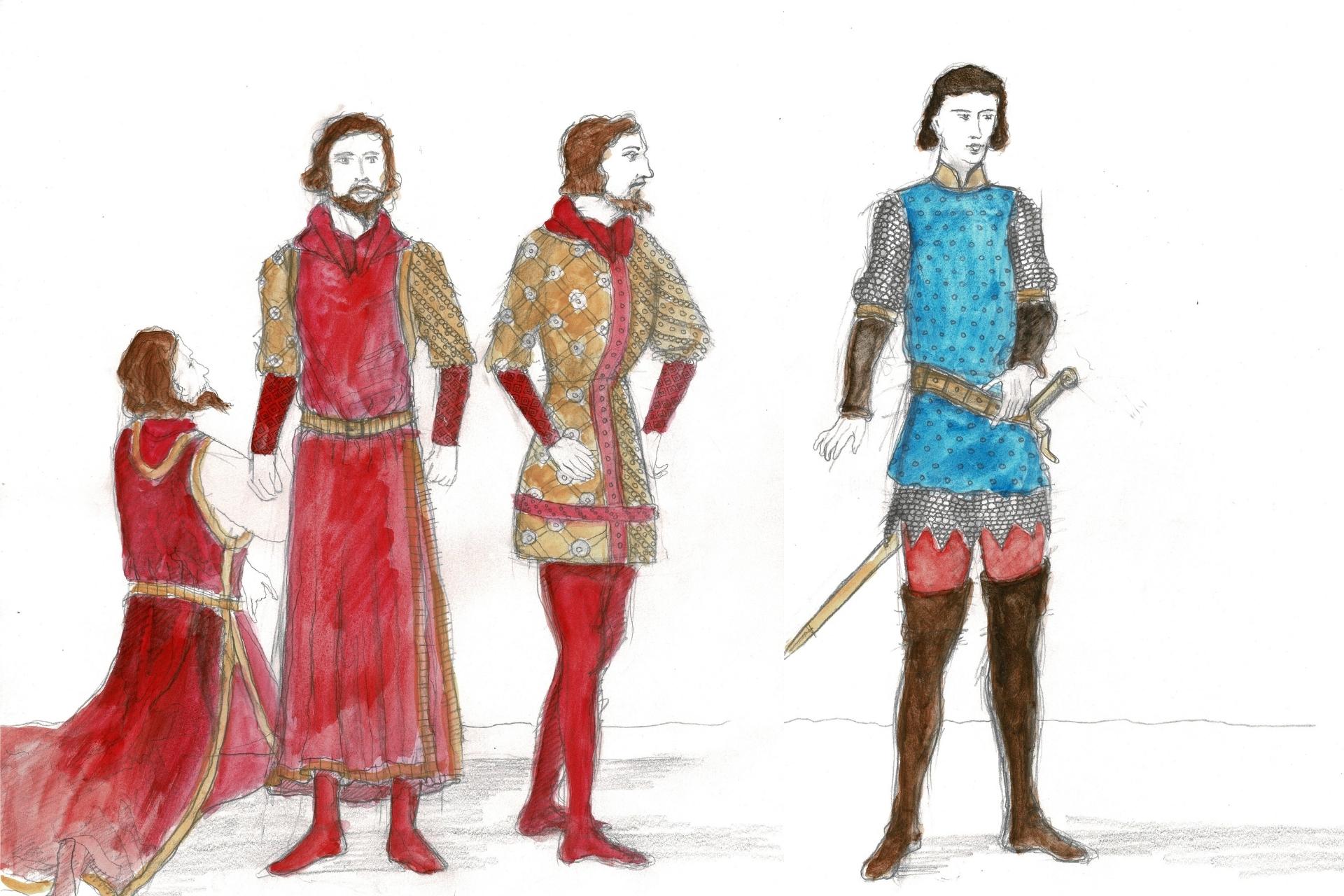 King René wears a dense deep red sleeveless tunic edged with gold trimming. Under the tunic is a bulky brass embossed leather shoulder sleeve and a tight fitted gold forearm sleeve to finish the arm. His red knee-high boots continue up the leg with matching red tights. The costume is finished with a thick embossed gold belt.
Count Vaudémont wears a cobalt blue sleeveless tunic with chainmail sleeves and a jagged skirt underneath. The tunic is armored with a gold belt, sword, sheath and scabbard (case for the blade of a sword). His brown leather knee-high boots contrast with bright red leg tights.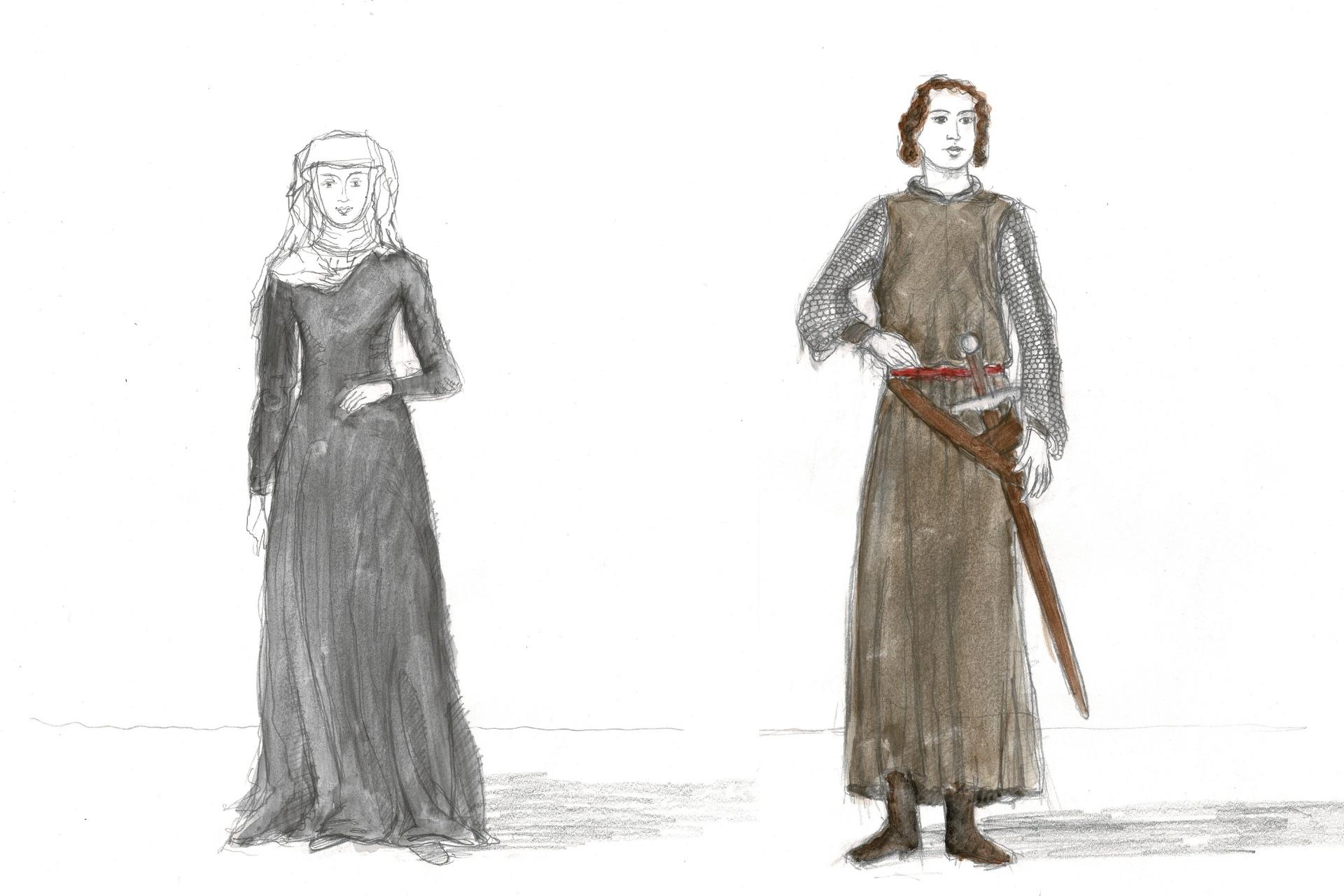 Marta wears a dark grey linen straight line dress with her hair covered by a head wrap consisting of layers of off-white cotton gauzes.
Bertrand wears a earth brown textured long sleeveless tunic with chainmail sleeves, a red cloth thick belt and armor with a sword, sheath and scabbard and brown leather boots.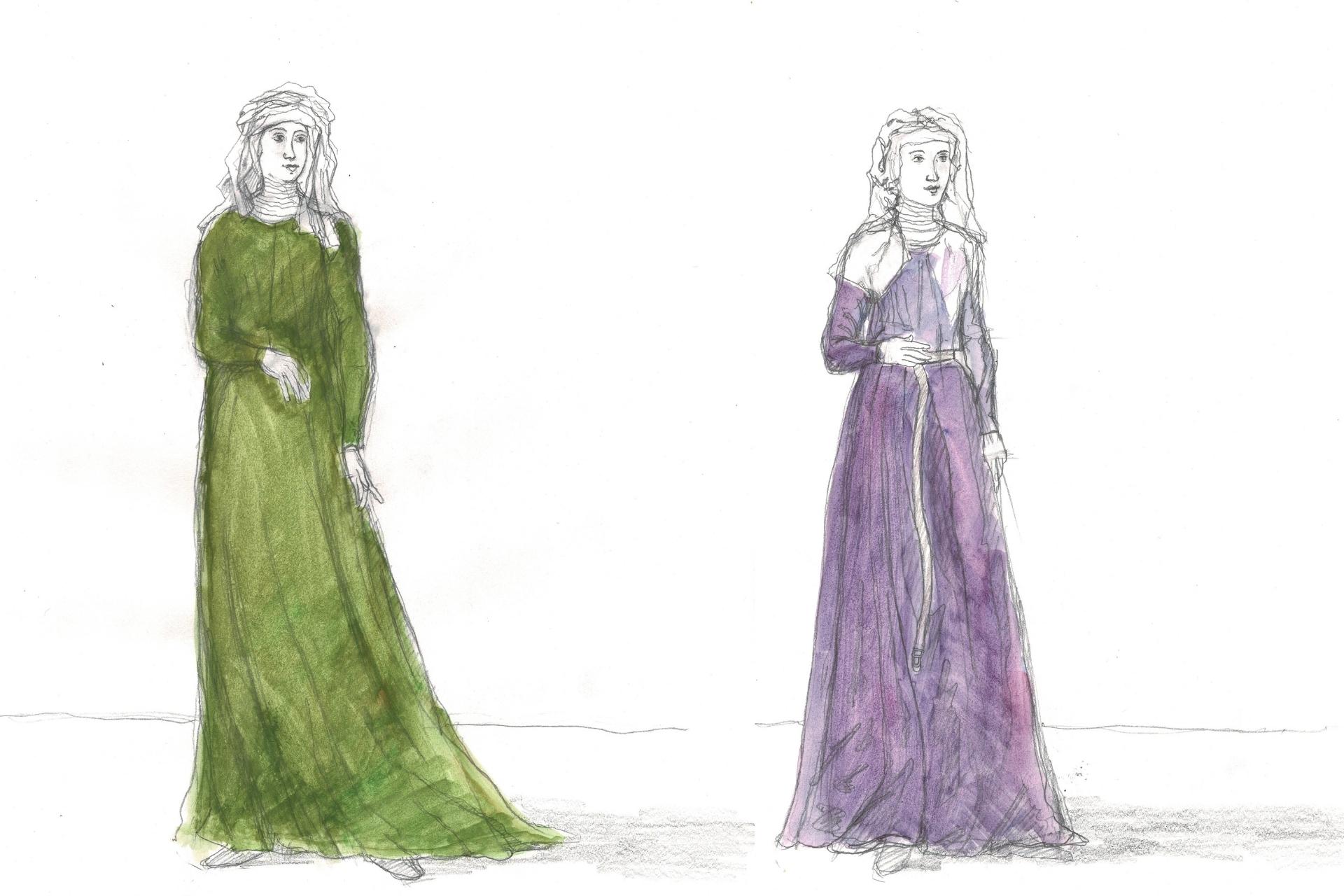 Brigitte wears an olive linen straight line dress with her hair covered by a head wrap consisting of layers of off white cotton gauzes.
Laura wears a lavender linen straight line dress with hair covered by a head wrap consisting of layers of off-white cotton gauzes.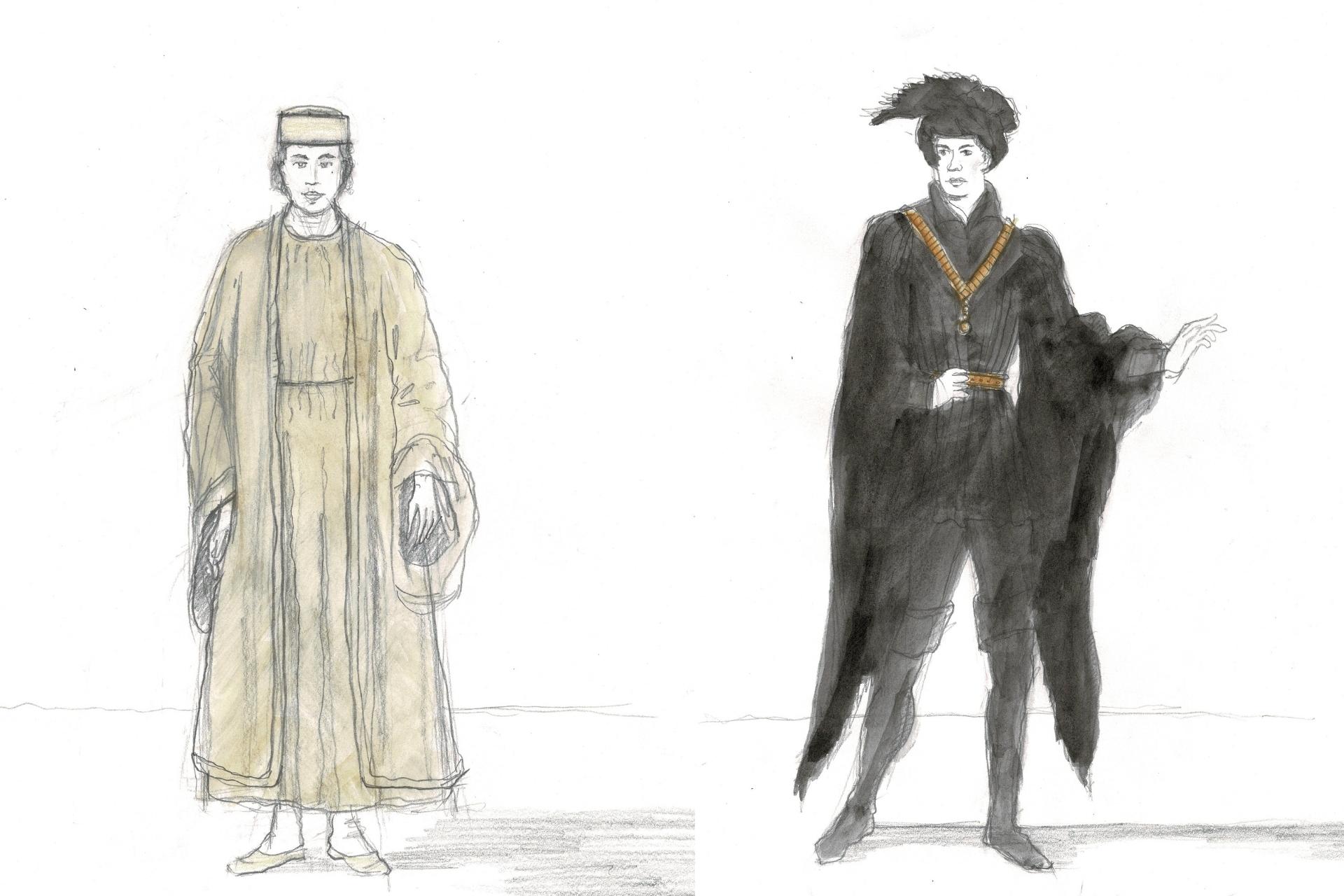 Ibn-Hakia (The Doctor) wears an off-white cotton muslin oversized cloak with long bell sleeves. Underneath, he wears a matching fabric loose tunic and canvas shoes.
Duke Robert is dressed in all black dense fabrics forming a flamboyant and jagged sleeved tunic, tights, above-the-knee boots. He is decorated with a gold jeweled belt and wears an extravagant black silk dupion wrapped hat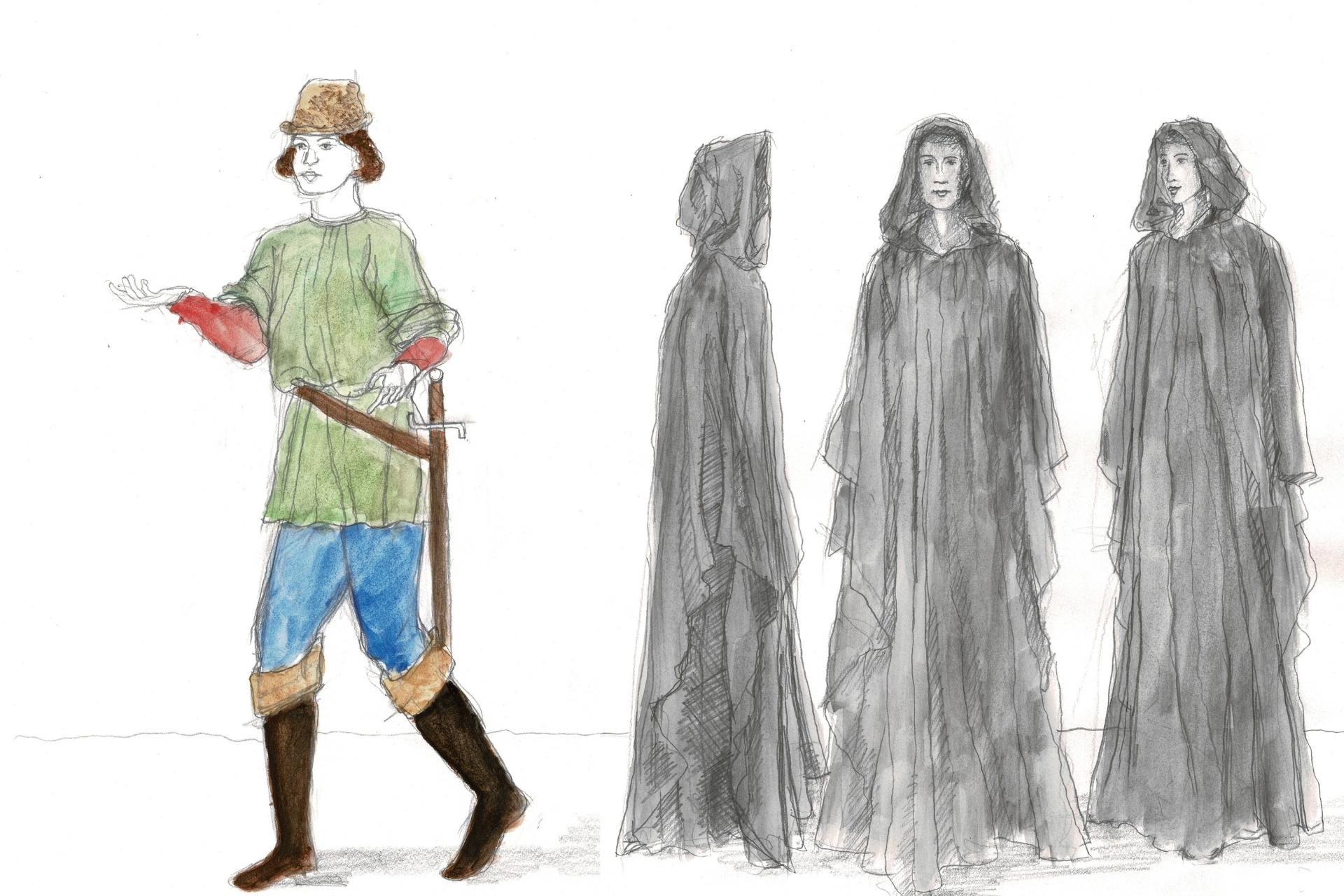 Alméric wears a loose light olive half sleeve tunic with a fitted full sleeve tunic underneath. He is belted with a sword, sheath and scabbard, while also wearing cobalt blue tights and knee-high leather boots. His costume is complete with a narrow brimmed and taller than usual straw hat.
The Chorus are wearing oversized dark grey floor length hooded cloaks with full bell sleeves.
West Australian Opera presents Tchaikovsky's Iolanta from 6 - 9 April at His Majesty's Theatre. Click here to learn more about the production and book tickets.