WAO Spotlight with Ashlyn Tymms
With the final glorious notes of Mozart's Così fan tutte still lingering in memory, now is our chance to reflect on the cadence of this journey to the stage. From quarantine to curtain call, we want to shine a spotlight on our creatives working tirelessly to bring the magic of opera to you. Connect with your state opera company on an intimate level and learn why focus, support and belief are pivotal to artistic achievement.
Join us in conversation with mezzo soprano Ashlyn Tymms as she reflects on her approach to character development, the vocal stamina demanded by Mozart's score, and how opera captures the full sweep of human emotion.
1. Now that Così fan tutte has drawn to a close, can you reflect on what you found most challenging and most rewarding about the production?
Firstly, Così fan tutte finished its final performance last Saturday evening and I am missing it terribly! I have really been in a Mozart bubble for the past few months and I will miss performing the role of Dorabella and working with my lovely colleagues. This was my first Mozart role and it is safe to say that is a challenge in itself. The score is vocally demanding – not only is it a long role requiring stamina, it also requires a great range and colour to bring Dorabella to life. Dorabella is a real character role and she flies off the cuff emotionally throughout all the various scenes. It was a great challenge and a great thrill to perform this fantastic role.
2. Così is an emotionally charged opera. How did you learn to act through song?
Acting has always been a love of mine, separate from singing. I feel a sense of freedom when I develop a character away from the music. To study as an actor would – how would this character walk, sit, use their hands; their habits, likes, dislikes, age etc. – it all informs me on how to move and react on stage. The singing is then almost placed on top of that and is directly influenced without losing technical focus.
3. Tell us about your character Dorabella – how did you prepare for the role? What interests you about her personality and motivations?
I came to this role without much notice and had to learn it as fast as possible. Luckily I was in quarantine for two weeks without much else to do and found that quiet time and space so conducive to absorbing the role. I prepared the music with WAO music staff and coached the vocal technical side with my teachers over Zoom in Sydney. I also worked in the IPA word for word and had sessions with my Italian coach in Munich via Zoom. It is always a team effort preparing a role – you need to have those strong people around you who fully support you and know what you are capable of.
Dorabella is high energy and high emotion. I love playing her – she lives in the moment and follows her heart instead of her head.
4. What's one piece of advice you would give to your younger self?
I would say: keep doing what you are doing and eventually it will pay off. I have always worked hard and thrown myself into music and singing wholeheartedly. When I was younger I sacrificed a lot to pursue music and at times wondered if it would ever work out. Little by little you keep growing and the hard times make you strong. Everything happens for a reason; you just have to remember why you love it and always move forward. Onwards and upwards!
5. To what extent do you think opera can pose meaningful questions or messages that are relevant today?
Opera is based around the extremities of human emotion. With the transport of music, sheer humanness can be communicated in ways no other art form can compare to. In every opera we have characters that are relatable; even if some of the stories are a little out-there, the emotions portrayed are relevant. I do think there is a great need to support new opera compositions and find love for performing modern works, which connect directly to our current world climate.
6. Can you share with us a musical moment in your life that you found to be illuminating or inspiring?
Along the way I have had so many of these moments – I think that is what is so special about having the privilege of a life in the arts. I have had the opportunity to perform all around the world. Of note for me is of course His Majesty's Theatre, which has a similar design to where I trained, The Britten Theatre at Royal College of Music, London – also St Paul's Cathedral, Buckingham Palace, Seoul Arts Centre and the Sydney Opera House.
7. From playing Hansel in Hansel and Gretel to Dorabella in Così, you've taken on some exciting projects this year. What's next for you?
Playing the role of Hansel was a dream; it truly is some of the most beautiful music. The timing was so fortunate too as it was just before COVID hit. I remember looking out performing to a sea of people that night, such a buzz!
My relationship with WAO has gone from strength to strength – I feel at home within the company and am fortunate to have performed these roles in 2020. There are some exciting opportunities ahead for me next year too, and I look forward to sharing more performances! Watch this space…
Ashlyn Tymms starred as the tempestuous Dorabella in Così fan tutte. To view our Facebook album of images from this stunning production, please click here. 
Image by James Rogers.
ABOUT ASHLYN TYMMS
Ashlyn Tymms performed with West Australian Opera as Hansel in City of Perth Opera in the Park: Hansel and Gretel. Making her debut with the company as Lapák and Mrs Pásková in The Cunning Little Vixen, Ashlyn has also performed as Flora in La Traviata and Lady-in-Waiting in Verdi's Macbeth, and has sung with WAO in the Pinnacles, the Valley of the Giants and Opera in the Quarry.
Ashlyn graduated as an HF Music Scholar at the Royal College of Music, London, Masters of Vocal Performance with Distinction, and has been awarded Outstanding Australian Musician Award from the Royal Over-Seas League, London. Ashlyn performed the role of Rosimonda in Handel's Faramondo at the London Handel Festival. Other roles include Judith in The Two Sisters, premier with Tête à Tête Opera, La Marchande de journaux in Poulenc's Les mamelles de Tirésias, Euridice in Monteverdi's L'Orfeo, title role in Dido and Aeneas, Eurydice in Offenbach's Orpheus in the Underworld, and Berenice in Rossini's L'occasione fa il ladro.
Ashlyn has also performed extensively within Australia, UK and Asia on the concert platform.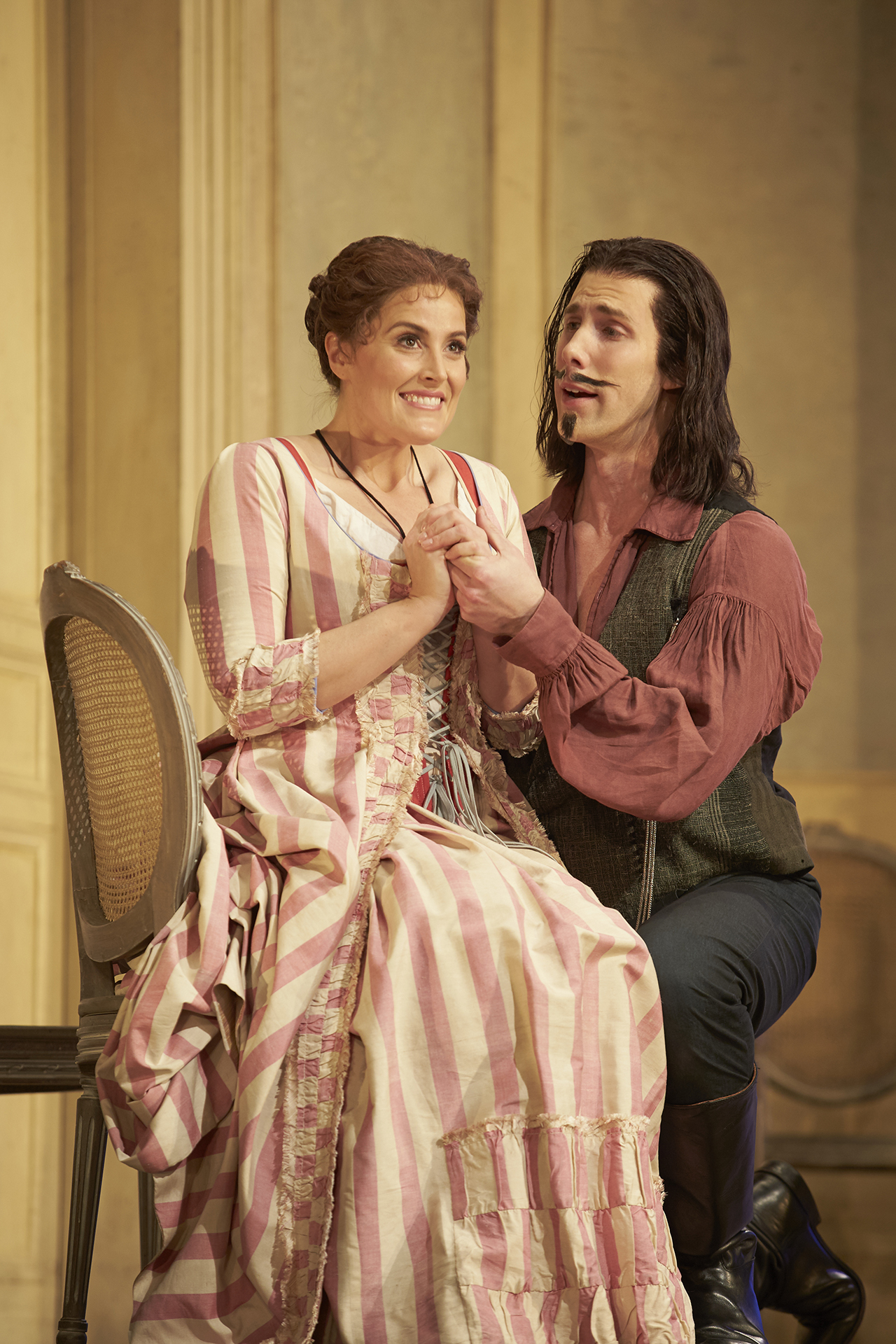 Ashlyn Tymms as Dorabella and Sam Roberts-Smith as Guglielmo in Così fan tutte. Image by James Rogers.